How much is Steve Harvey worth:
---
Full Name: Broderick Steven "Steve" Harvey
Net Worth: 1

00 $Million

Occupation: Comedian, radio personality, actor, television host and author
Marital Status: Married
Ethnicity: African-American
---
Steve Harvey Net Worth – Once Homeless And Now Famous Comedian
Steve Harvey First Hint Of Huge Success
Steve Harvey is an American stand up comedian who was born in Welch, small town in West Virginia. His father was a miner working in a coal mine and mother a housewife. Steve got his first name Broderick after famous actor Broderich Crawfort. Perhaps this influenced the choice of a profession which he will perform later in life. Sometime later, Steve's family moved to Cleveland. The street in which they lived in Cleveland got named after him in 2015, in his honor, and now is called Steve Harvey Way.
After high school, he enrolled at Kent State University and  West Virginia University after Kent's. Before becoming a famous comedian, he worked as a carpet cleaner, boxer, mailman and an insurance salesman. Steve's first performance was in Hilarities Comedy Club in Cleveland. At that time he was homeless, but not for a short time, it lasted for many years. His Ford was his house when he was not doing  stand-up comedy in hotels, which in that case provided him a place to sleep. When he had to use shower, he would go to the gas station or would use the shower at swimming pools.
This period of time in his life was pretty much hard, but like always in situations like this a friend's hand came along. So it was with Steve. His friends Rich and Becky Liss helped him by giving him a contract for cleaning carpets and credit at an agency for traveling. Steve Harvey's net worth was on a sight in 1990 when he finally  got his life chance of becoming a finalist in Second Annual National Comedy called after  Johnnie Walker. All this led to ABC show Me and the Boys in which he preformed a starring role. Next stop was a network show on WB called The Steve Harvey Show which lasted six years from 1996 until 2002.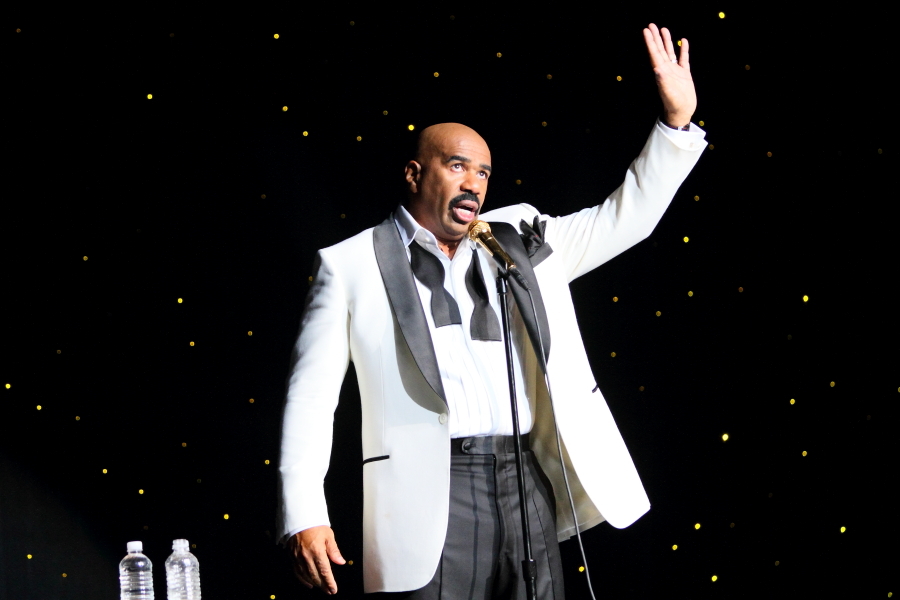 The film was made later on by his comedy act and it was called The Original Kings of Comedy. His popularity grew up by selling DVD's with this film and the other ones like Don't Trip and He Ain't Through With Me Yet so as his money account. Steve Harvey was author of the book called after his name Steve Harvey's Big Time. Book name was used as the name of his stand up comedy and different TV show. He performed as an actor in movies Racing Stripes, and The Fighting Temptations together with Beyonce Knowles and Gooding Cuba.
Stevie Harvey net worth increased by writing and selling his book Act Like a Lady, Think Like a Man which served as a foundation for a film Think Like a Man.His career as a stand up comedian was finished in 2012, after 27 years, with MGM Grand situated in Las Vegas. It lasted two hours and was broadcasted live on Pay Per View.
Steve's comment on this last show was that path to that very show was a wonderful journey and his fans are the ones he should be thankful for.
Steve's Harvey Private Life
He has been a lucky one if you consider the fact that he has been married three times. He has been the lucky one, despite the fact that he had some rough periods in life. Marcia Harvey, was the first Steve Harvey, wife, which gave him two twin kids, daughters Karli and Brandi and son Broderick Steve Jr. His second marriage to Mary Shackelford gave him another son named Wynton. Now he is happy with his third wife, Marjorie Bridges, which he considers responsible for changing his life and personality for the better.
Steve Harvey house is a real castle. The size of his house is about 3 acres and garage is so huge that can house about seven cars in it. The house itself has five bedrooms, five bathrooms and two half baths. Now what do you say, was he the lucky one?
Please leave comment below.
Steve Harvey Body Statistics: