How much is Alfonso Ribeiro worth:
---
Full Name: Alfonso Lincoln Ribeiro
Net Worth:

$5 Million

Occupation: Actor, voice actor, comedian, television director, director, dancer, game show host
Marital Status: Married to Angela Unkrich
Ethnicity:Afro – Caribbean
---
Alfonso Ribeiro Net Worth – How Fortune Worked In Favor Of This Star Celebrity
How Much Is Alfonso Ribeiro Net Worth? Approximately $ 5 Million!!!
Alfonso Ribeiro is well known American actor, game show host, dancer and a television director. He is definitely a man of many talents. He succeeded in many ways and become a superstar. Alfonso Ribeiro net worth today is estimated around $ 5 million.
Alfonso Ribeiro was born on September 21st 1971 in Bronx, New York, United States of America. His parents were from Trinidad and Tobago and young Alfonso was raised as a regular American teenager, but his talents show up very early.
Alfonso Ribeiro Net Worth – Beginnings
Alfonso Ribeiro gets his first public appearance at the age of eight. It all have started with the PBS show ''Oye Ollie'', but true success was a Broadway role in the ''Tap Dance Kid''. Alfonso's dancing talent was noticed by Michael Jackson who offered him a role in the Pepsi commercial. At the age of ten, young Alfonso has many musical and dancing hits in his biography.
However, he did not forget his education, so he went to California State University at Los Angeles.
The biggest acting success of Alfonso was definitely a role of Carlton Banks in the television show ''The Fresh Prince of Bel-Air''. Rich and spoiled Carlton was perfectly played by Alfonso. He made many other noticeable roles in different television shows like ''Shake It Up'', ''Big Time Rush'', ''Are We There Yet?'', ''Things We Do for Love'', ''In the House'', ''Extreme Ghostbusters'', ''Happily Ever After: Fairytale for Every Children'' and many more.
From the other hand, Alfonso is not just an actor. He decided to prove himself in many ways. When completing ''The Fresh Prince of Bel Air'', Alfonso won the Celebrity Duets television show. He also was a game show host of ''Spell Mageddon''. He was also a part of celebrity reality show ''I'm Celebrity… Get Me Out of Here''. Another great success was a partition in the 2014 ''Dancing with the Stars'' show. His partner was professional dancer Whitney Carson and two of them won the season competition.
Alfonso Ribeiro Net Worth – Personal Life Of A Celebrity
Alfonso Ribeiro's first wife was Robin Stapler. Unfortunately, marriage lasted just for four year. The divorced because of irreconcilable differences. Today, Alfonso and Robin share custody of their daughter Sienna Ribeiro.
Today, Alfonso is happily married to a writer Angela Unkrich. They are devoted parents to two sons – Alfonso Lincoln Ribeiro Jr. and Anders Reyn.
Alfonso Ribeiro Net Worth and Current Life
Today, Alfonso is more than active. He works in many fields, but his biggest role in life is definitely a devoted father and a loving husband. With many awards in dancing and reality shows, and a rich film biography beyond, Alfonso is one of the popular television superstars.
He is man of many talents and there is much to hide beyond pretty face. There is an interesting fact that Alfonso lives in Los Angeles so he could easily participate in the celebrity car races. Between celebrities, it is not unknown that most famous car racers are Gene Hackman and Patrick Dempsey.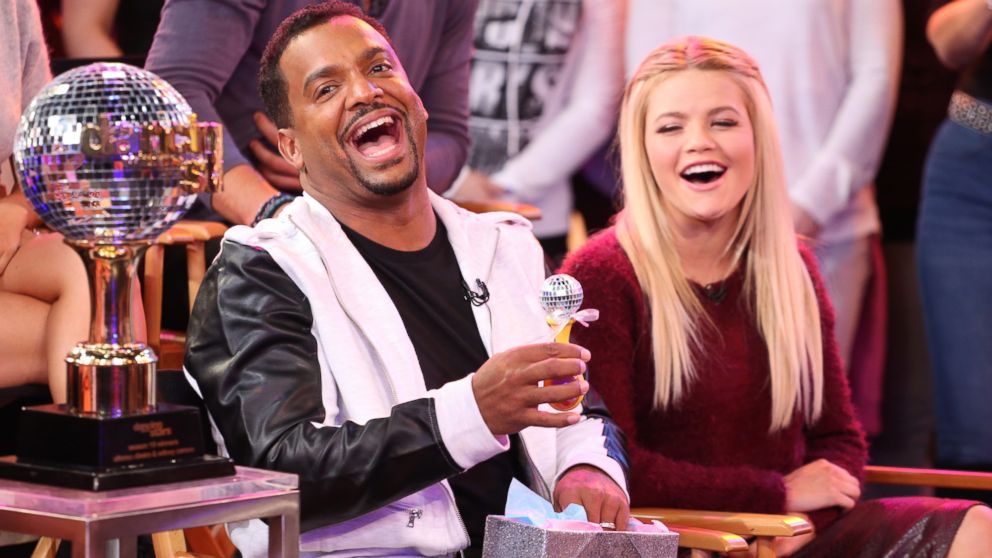 Alfonso Ribeiro lives with his wife and sons in North Hollywood, California. Alfonso Ribeiro's house is situated in the calm area offering needed peace for the perfect family nest. Alfonso is still acting, currently in the ''Tonight Show starring Jimmy Fallon'' as a Carlton Banks again. He is also a director in the television show ''Young and Hungry''.